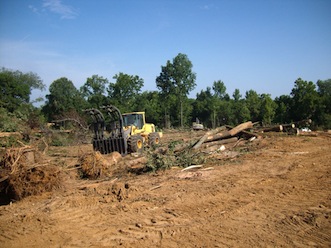 Lot/Land Clearing
We work closely with homeowners, developers, and builders for lot clearing so that new houses, residential additions or commercial storefronts can be built.
Unfortunately, trees must occasionally be removed to build homes, roads, schools, recreational areas, golf courses or commercial developments. Michael's Tree & Loader Service, LLC maintains a fleet of heavy-duty land-clearance equipment and our team has a wealth of land clearing experience. Our professionals are trained to minimize the negative ecological effects that can result from clearing, and will work to preserve any desirable trees on a site.
Our Services Include:
An overall site plan developed to ensure a desired end result.
Debris can be processed on site or hauled off for recycling.
Proper equipment is used to protect and minimize damage to desired trees.