Michael's Tree & Loader Service, LLC prides itself in having a knowledgeable and safe staff for urban forestry. Michael's Tree & Loader Service's mission is to not only provide top notch tree service, but also to educate the public in urban forestry.
To function well in the landscape, trees require maintenance. Much can be done by the informed homeowner. Corrective pruning and mulching gives trees a good start. Large shade trees, however, quickly grow to a size that may require the services of a professional arborist. Arborists have the knowledge and equipment needed to prune, spray, fertilize, and otherwise properly maintain a large tree.
Pruning
Removing dead, damaged, weakly attached, or diseased branches is essential to healthy trees. This reduces hazards, decreases property damage and helps to promote healthy tissue. Regular pruning can eliminate small problems before they become big ones. A well-timed schedule is one of the wisest investments you can make in your property. All pruning cuts must be made with an educated understanding of how the tree will respond to the cut. Improper pruning can cause damage, ruining the health and value of a tree forever.
For more information on Pruning, visit the USDA Forest Service's website.
Removals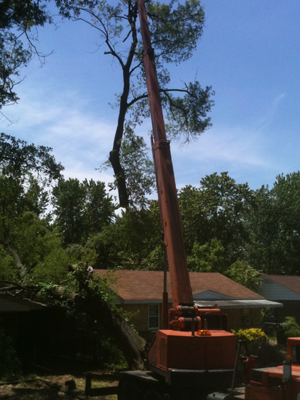 When the time comes to remove any tree on your property, you can count on Michael's Tree & Loader Service, LLC to get the job done right. The responsibility of protecting your property is something we take very seriously. Our crews are highly trained professionals who are experienced in difficult and hazardous removals — and do not take chances at your expense. We are fully equipped to remove all plants, ranging from landscape bushes to the largest trees, over swimming pools, garages and/or utility lines.
For safety's sake, tree removals are best left to the professionals. Michael's Tree & Loader Service will safely protect your property. If you decide to attempt to remove a tree yourself, please observe a few safety guidlines
For more information on Removals, visit the USDA Forest Service's website.
Stump Removal
Once a tree is cut down and removed, the question of what to do with the stump arises. The objective of the stump removal should first be clearly defined. The use of the area after stump removal needs to be assessed, since it may determine the extent of removal operations.
Once a live tree is cut down, the roots soon stop growing. There is no longer the stimulation from hormones produced in the canopy to encourage new growth of roots. In most cases, the roots stop growing within a matter of days or weeks, and usually die shortly after that. Some tree species, however, develop root sprouts in order to re-establish the root system. If allowed to grow, these shoots will produce the hormones and the carbohydrates the roots need to survive. Simply mowing the sprouts as they develop will usually result in the final death of the root system within a few months or a year.